Dear Friends of Reading to Kids,
Our "Faraway Places" reading clubs are just 9 days away on September 14th, and we still need 141 more volunteers. Here's what you can do to make sure the kids have enough readers!
First, sign up now if you haven't already!
Next, encourage your friends, co-workers and family to sign up, too, by asking them to join you at your school. You can do that by both sharing our Facebook event and guiding them to also sign up on our website.
If you use Twitter/Instagram/Pinterest/Tumblr or whatever, please post that we need more volunteers. Be sure to post that 1) the reading clubs are the morning of September 14th near downtown LA, and 2) volunteers must sign up online at www.readingtokids.org.
Finally, print out this flyer and post it at your work or favorite community bulletin board. Make it a personal and fun social event by including the school at which you'll be reading!
Please note that the September Reading Clubs fall on Yom Kippur. If this changes your availability, please be sure to cancel your RSVP.
_______________________________________________
SCHOOL AMBASSADORS NEEDED MON., 9/9
This Monday, September 9th, is the Monday before the 9/14 reading clubs, and we can use your help to do the following at each school:
- Put up the banner
- Distribute teacher welcome letters
- Distribute Classroom Sign-In Posters
- Conduct quick classroom walk-throughs to encourage kids to come to the reading clubs that Saturday
We'll supply everything you need, so we just need folk (ideally in pairs) who can go to a school or two as a Reading to Kids Ambassador.
This is a wonderful way to interact with the kids and teachers. The more we publicize at the beginning of the school year, the more children and families we'll serve all year.
Please reply to this email or call the office if you can be an Ambassador on Monday, Sept. 9th.
_______________________________________________
HOWL AT THE MOON WITH READING TO KIDS ON SEPT. 19
If you are at least 21 years old, mark your calendars! On Thursday, September 19th, Reading to Kids volunteers and their friends are gathering for a night of rock n' roll dueling pianos at Howl at the Moon, Hollywood in Universal City!
If you haven't been to Howl at the Moon before then you are in for a treat. There are two pianos and a group of musicians who alternate instruments and vocals. Sing, dance, and howl the night away as great musicians take requests and perform your favorite songs from the 70's, 80's, 90's, and today on pianos, guitars, and more!
Tell them you are supporting Reading to Kids and your $10 donation/cover charge goes to us, and your first two drinks are only 50¢ each.
WHEN: Thursday, September 19th, doors open at 7pm
WHERE: Howl at the Moon, Hollywood
1000 Universal Studios Blvd.
Universal City, CA 91608
(818) 755-9970
21 and over only
Seating is first come, first served only with no reservations, so arrive as early as possible if you are interested in sitting at a table. For more details, visit our event on Facebook and share it with your friends!
Please also click the image below for a flyer in .PDF format, and forward it to anyone you know who may be interested in joining us at Howl at the Moon.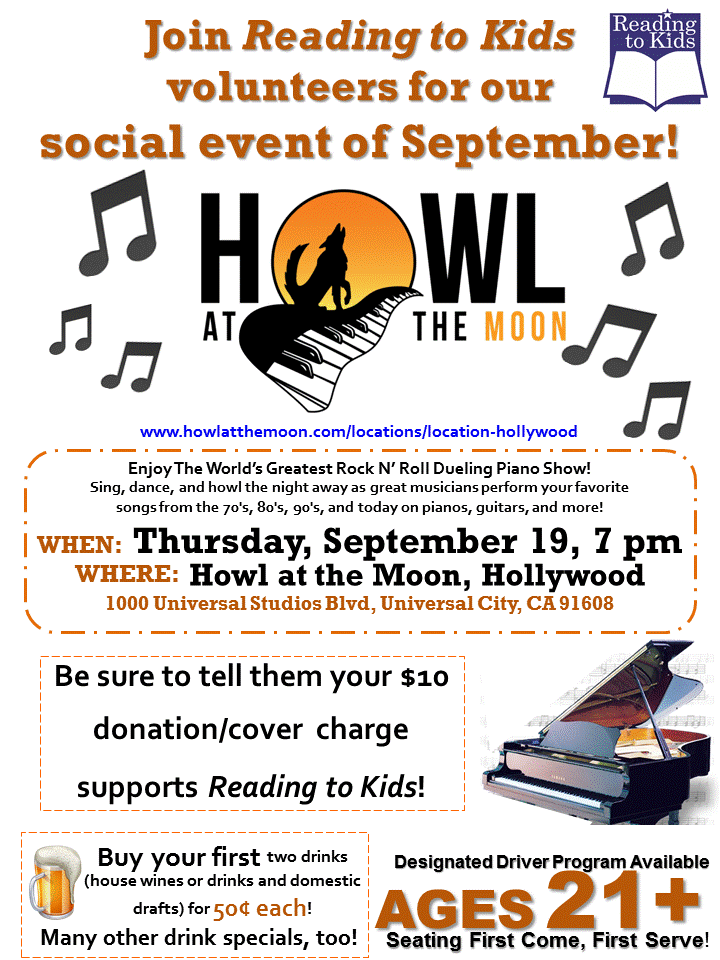 Please also print out the flyer and post it wherever many people are likely to see it, perhaps with a note that you are going and inviting others to join you.
Join us for a howlin' good time!
_______________________________________________
For the eighth year in a row, IBM Corporation has generously donated a grant to support our monthly reading clubs!
Our sincere thanks to both IBM and to Mark May, Site Coordinator at Esperanza, for making this $3,000 grant possible so we can continue to inspire children with a love of reading.
_______________________________________________
If you or someone you know possesses the powers of magic and illusion, please contact the office. We need magicians for each of our seven schools at our October 12th reading clubs!
_______________________________________________
Thanks, and let's get those volunteers signed up for the 14th!