Dear Friends of Reading to Kids,
It's a bird... it's a plane... it's our June 8th "Super Heroes and Super People" Reading Clubs!

Be the super person you are and sign up now. Then reach out to your league of friends and join our June 8th Facebook event to help spread the word.
We also send our best wishes and thanks to Katherine Norris, our former Literacy Coordinator who is now off to pursue her graduate studies at Ohio State University.
_______________________________________________
JUNE 18TH COMEDY NIGHT TICKETS ON SALE NOW!
Today is a great day to buy your tickets for our 2013 Benefit Comedy Night and Silent Auction on Tuesday, June 18th! Help support your favorite good cause and join us at the Hollywood Improv for what promises to be a side-splitting show featuring Doug Benson!

Doug has appeared on many programs, including Jimmy Kimmel Live, Comedy Central Presents, and Last Comic Standing, to name just a few. He also hosts his popular Doug Loves Movies and The Benson Interruption podcasts. Doug has over half a million Twitter followers, so buy your tickets early! Joining Doug will be several other hilarious comedians hand-picked by the world famous Hollywood Improv.
Tickets are on sale for $35 (+ $4 service charge), and in addition to a night of laughs, dinner in the showroom is included in the ticket price! The Silent Auction will open at 6:00pm, with dinner service starting at 6:30pm, and show time starting at 8:00pm.

For more details, visit our event on Facebook and share it with your friends.
Please also click the image below for a poster in .PDF format, and forward it to anyone you know who may be interested in going to our Comedy Night.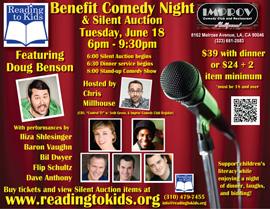 Please also print out the poster and post it wherever many people are likely to see it, perhaps with a note that you are going and inviting others to join you. Our Comedy Night makes a great night out with friends and co-workers!
_______________________________________________
COMEDY NIGHT SILENT AUCTION ITEMS NEEDED
Become a Reading to Kids hero and help us gather the most interesting and exciting items ever for our Silent Auction!
Please see the Want to help? area of our Comedy Night and Silent Auction webpage for links to a donation letter, donation form, and tips on how to best approach a business or person to donate to our Silent Auction. We thank you in advance!
In the past we have had gift certificates, products, services, and tickets to fun events. If you work at or have a connection with a restaurant, retail store, or for a company with products or services to offer, please help us by asking for a donation to our Silent Auction. We are always looking for fun, inventive items to include in our Silent Auction.
_______________________________________________
We would like to thank the Water Buffalo Club for its generous and ongoing support! Over the next two years their recent $20,000 grant will go towards hardcover, read-aloud books that we'll donate to our partner schools' libraries after the reading clubs, and towards paperback prize books for children, their parents, and teachers!
This grant would not have been possible without the support of Principal Brad Rumble at Leo Politi Elementary School. Principal Rumble arranged for two wonderful Politi students to be part of our presentation to the Water Buffalo Club, and they did a fantastic job sharing how much Reading to Kids means to them. Finally, a special thank you to Reading to Kids volunteer Julie Stephens for representing our dedicated volunteers during the presentation!
_______________________________________________
VOLUNTEER BOWLING NIGHT JUNE 1
Johnny, come out and play! Reading to Kids volunteers are having a bowling night!
Join us in Koreatown and get to know the great folks you're reading with.

Will your school take the prize, donated by Reading to Kids crafts experts?! The only way to find out is to represent Alta Loma, Esperanza, Gratts, Los Angeles, Magnolia, Politi and Charles White and bowl a lucky strike!

DATE: Saturday, June 1, 2013
TIME: 7:00-9:00pm
LOCATION: Shatto 39 Lanes (3255 W 4th St, Los Angeles, CA 90020)

We will be reserving lanes, so please be sure to RSVP here or email Eva Luc (Eva.Luc

readingtokids.org) so we know you're coming!
_______________________________________________
Thank you in advance for buying your Comedy Night tickets, promoting the event, and supporting Reading to Kids!