Dear Friends of Reading to Kids,
Thanks to our stellar volunteers, the May 11th "Fantasy, Folklore, and Fairytales" Reading Clubs were a big success - we had 704 students and 80 parents in attendance!

Get the summer started right and sign up for our June 8th "Super Heroes and Super People" Reading Clubs TODAY.

After you sign up, please visit our Facebook event so that your friends will see that you're attending and you can invite others to join you!
_______________________________________________
JUNE 18TH COMEDY NIGHT TICKETS ON SALE NOW!
You won't want to miss the Reading to Kids 2013 Benefit Comedy Night and Silent Auction on Tuesday, June 18th! Help support your favorite good cause and join us at the Hollywood Improv for what promises to be a side-splitting show featuring Doug Benson!

Doug has appeared on many programs, including Jimmy Kimmel Live, Comedy Central Presents, and Last Comic Standing, to name just a few. He also hosts his popular Doug Loves Movies and The Benson Interruption podcasts. Doug has over half a million Twitter followers, so buy your tickets early! Joining Doug will be several other hilarious comedians hand-picked by the world famous Hollywood Improv.
Tickets are on sale for $35 (+ $4 service charge), and in addition to a night of laughs, dinner in the showroom is included in the ticket price! The Silent Auction will open at 6:00pm, with dinner service starting at 6:30pm, and show time starting at 8:00pm.

For more details, visit our event on Facebook and share it with your friends! Please also click the image below for a flyer in .PDF format, and forward it to anyone you know who may be interested in going to our Comedy Night.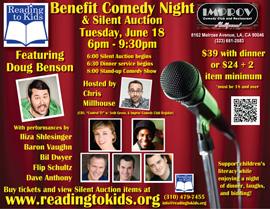 Please also print out the flyer and post it wherever many people are likely to see it, perhaps with a note that you are going and inviting others to join you.
_______________________________________________
COMEDY NIGHT SILENT AUCTION ITEMS NEEDED
Our Comedy Night features a Silent Auction, with all proceeds benefiting Reading to Kids - and we can use more donated items!

In the past we have had gift certificates, products, services, and tickets to fun events. If you work at or have a connection with a restaurant, retail store, or for a company with products or services to offer, please help us by asking for a donation to our Silent Auction. We are always looking for fun, inventive items to include in our Silent Auction.
Please see the Want to help? area of our Comedy Night and Silent Auction webpage for links to a donation letter, donation form, and tips on how to best approach a business or person to donate to our Silent Auction. We thank you in advance!
_______________________________________________
We would like to thank the Target Corporation for their generous $10,000 grant! For the third year in a row Target Corporation is supporting us to further our goal of spreading the love of reading to children, and we are honored to be a part of their reading initiative.
_______________________________________________
VOLUNTEER BOWLING NIGHT JUNE 1
Johnny, come out and play! Reading to Kids volunteers are having a bowling night!
Join us in Koreatown and get to know the great folks you're reading with.

Will your school take the prize, donated by Reading to Kids crafts experts?! The only way to find out is to represent Alta Loma, Esperanza, Gratts, Los Angeles, Magnolia, Politi and Charles White and bowl a lucky strike!

DATE: Saturday, June 1, 2013
TIME: 7:00-9:00pm
LOCATION: Shatto 39 Lanes (3255 W 4th St, Los Angeles, CA 90020)

We will be reserving lanes, so please be sure to RSVP here or email Eva Luc (Eva.Luc

readingtokids.org) so we know you're coming!
_______________________________________________
THANK YOU BINGO PLAYERS
(& RICHARD SIMMONS)
Our sincere thanks to the many Reading to Kids volunteers and supporters who came out last night for a fabulous time at Legendary Bingo! Our thanks also to Hamburger Mary's for hosting, to Jeffery (aka Bingo Boy) for arranging such a fun event, and to Bingo hostesses Willam and Roxy!
Thank you also to surprise guest Richard Simmons, who not only led the crowd in a workout, but generously outbid even himself during one of our auctions!
In a day or two we plan to post a few photos from last night on the Reading to Kids' blog. In the meantime, we also thank our wonderful prize donors, including the LA Opera, Kendall's Brasserie and Bar, Disneyland, USC Bookstores, Chivas USA, Cabot Creamery Cooperative, In-N-Out, Tommy's, and Pink's Famous Hot Dogs. We're already looking forward to our next Legendary Bingo Night!
_______________________________________________