Dear Friends of Reading to Kids:
It is with great sadness that I pass along the news to you that longtime volunteer Helga Hung died in a car accident Saturday afternoon on her way home from the reading clubs. Helga was 31 years old and an elementary school teacher in Pasadena.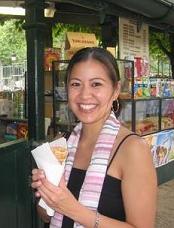 Helga first volunteered with Reading to Kids in August 2000. Since then, Helga volunteered at 38 reading clubs (all but one at Esperanza Elementary School). To understand the magnitude of her impact on Reading to Kids, you have to know that out of the almost 5,000 people who have volunteered with us since May 1999, Helga ranked an astonishing 14th overall in total reading clubs! In 2003, Helga joined our Reading to Kids Taskforce and quickly became a co-chair of the Community Outreach Committee and then of the Volunteer Relations Committee. Helga was directly responsible for interacting with many of the volunteer groups who participate with Reading to Kids today. Helga was also a project leader with L.A. Works, coordinating volunteers who join us from that fine organization.
Helga was a beautiful woman, but if that's all that you knew about Helga, then you really didn't know her at all. Helga never tried to be popular. She never had to. People were drawn to her because she was, without a doubt, one of the kindest, most generous, most positive and supportive people you could possibly meet. A beautiful person inside and out, she was always giving -- always thinking about someone else. She made this world a better place wherever she went, whether it was through her volunteering, her art, or by just being herself.
Helga's friendly, smiling face was one of those fixtures we always knew that we could expect to see at R2K on any given Saturday morning. Helga had a generous spirit and gave her heart and soul to volunteering with Reading to Kids and L.A. Works. As one of her fellow volunteers remarked, "Among all her qualities, the one I will remember the most is this -- every day I saw Helga was a good day. She just made people feel good to be around her."
Helga was our delight. Her loss is so hard and we miss her so much because she gave us so much joy, so often. We feel blessed to have known someone who was so filled with life and love and spirit. She will always be with us.
And so, it is now our privilege to carry on the great legacy of volunteerism that Helga has left behind. Over the next few weeks, we will be planning many ways to honor Helga's name and her memory. We have started by creating a tribute page for her: http://readingtokids.org/Tribute/HelgaHung.html. Please visit that page, and if you have a message of memory that you would like to include, please e-mail it to us at info@readingtokids.org. We have also added a lasting tribute to Helga on our home page. On the upper right corner there is now a small shooting star with the initials HH inside.
Although Helga's passing is a tragedy, the life she lived should inspire us to be better people. The obvious lesson to be learned from her passing is that we must treat life as precious because we never know what is coming. The deeper, more profound lesson, comes not from her death, but from her life. One thing that cannot be ignored about Helga is that she spent a great deal of her time helping others and she was an amazingly joyous person. For Helga, giving back to the community was part of who she was, not just something she did. Upon first glance, it might not make sense, but Helga's life should teach us that the more you give, the more you truly do receive.
To honor Helga's memory and all that Helga did and stood for, the best way would be to give back to your community. Please sign up for a reading club, register for an L.A. Works project (laworks.com), or go online to volunteermatch.org to find a volunteer opportunity that's right for you. And when you do that act of volunteering, please bring a friend. That's what Helga was all about. She showed up, and she brought people. She made volunteering fun, and she showed others that volunteering is fun. If any of you had the pleasure of reading with Helga over the last five years, you know that you experienced something special.
Helga, although you may no longer be with us in body, you will always be with us in spirit, and your memory will enable us to continue to make sure that our Saturday mornings are smiley and sunny, just as you liked them.
Helga Hung, dear friend, may you rest in peace.

Jason Axe
Reading to Kids
1600 Sawtelle Blvd, Suite 210
Los Angeles, CA 90025
(310) 479-7455
(310) 479-7435 (FAX)
info@readingtokids.org