Reading to Kids News

May 12, 2002
Computers Raffled Off to Children in Celebration of Third Anniversary of Reading Clubs!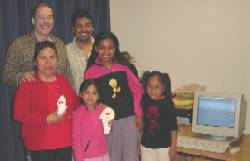 Gratts teacher Mr. Baehr presents this
happy grand prize-winning family with a
complete home computer system that had
been donated to Reading to Kids.
Thank you so much for another successful Saturday of reading clubs on May 11! With Mothers' and Fathers' Days around the corner, May's books featured family themes.
In celebration of the three-year anniversary of our first reading clubs at Gratts Elementary School, free raffle drawings were held for the kids at both schools. Prizes included books, calculators, and school supplies. The grand prize at each school was a computer system that had been donated to Reading to Kids!
At the end of the morning, former Gratts principal Raul Fernandez treated all in attendance at Gratts Elementary School to a great big cake and a hilarious magic show, and most everyone left the reading clubs with a couple of books in their hands and big smiles on their faces.
Thanks again for your participation and support! Please go to our "Volunteers" page after May 15 for a complete list of teachers, administrators, and volunteers who participated this month, and we hope to see you at the next reading clubs on Saturday, June 8!

Great News from the Clorox Company Foundation!
On April 30, 2002, The Clorox Company Foundation and the Clorox Los Angeles Plant presented Reading to Kids with a check for $6,643 to help fund the reading clubs!
Many thanks to Clorox for so generously supporting our program with their much needed financial contribution, and thanks to all of the generous donors who continue to fuel our efforts to promote improved reading and learning skills in elementary school children!
Reading to Kids Volunteer Linda Prestwidge Named Disney VoluntEAR of the Year!
Linda Prestwidge, a Disney/ABC employee and regular Reading to Kids volunteer, was named VoluntEAR of the Year at the Disney VoluntEARS recognition event on April 26, 2002. Linda was honored with a beautiful award and a check for $2,500 to give to the charity of her choice. We are so happy that she chose Reading to Kids to be the recipient of the donation!
"I'm so glad to be able to direct this money to Reading to Kids, since I am aware that R2K does not receive any government funding and relies solely on donations from individuals, foundations and corporations," says Linda, a Reading to Kids Taskforce member who has volunteered with us several times since last year and who also donates her time to other nonprofit organizations.
At her first Saturday reading club last June, Linda notes, "That day, I saw nearly 200 kids show up on Saturday morning for reading, dressed in their best dresses and school t-shirts, when they could have been home watching cartoons. I was impressed by that."
"I also saw many volunteers from local college sororities and fraternities, as well as local businesses," adds Linda. "I was impressed by how well organized everything seemed to be. I read to a group of fourth graders that day, and I think I had more fun than they did! I came away with a feeling that this was an organization that I wanted to be more involved with."
Since that time, Linda has served as the Reading to Kids liaison for Disney, and Disney VoluntEARS have contributed nearly 130 hours of time to Reading to Kids, including hosting a party at Magnolia Elementary School last October in honor of Walt's 100th Birthday. Congratulations to Linda, and thanks again to all those who have helped us continue our mission!
"First Book" Donates 600 Books!
First Book, a nonprofit organization with a mission of providing children from low income families with the opportunity to own and read their first book, has just agreed to give Reading to Kids a donation of 600 books! These books will be distributed directly to the children of Gratts and Magnolia over the next few months.
"Prize" books are a key component of the reading clubs in that they reward children for attending and, more importantly, provide children with fun and convenient reading opportunities at home that they and their siblings can enjoy and grow accustomed to for years to come.