College Spirit Day aims to promote reading
Twenty-nine USC volunteers, read books to students at elementary schools Saturday.
| | |
| --- | --- |
| Article Tools: | Page 1 of 1 |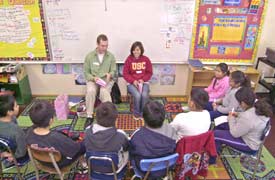 Media Credit: Rachel Elias | Daily Trojan




More than 250 student and alumni volunteers from around Southern California read stories about Thanksgiving to children in local elementary schools for the second annual College Spirit Day Saturday.

The event was sponsored by Reading to Kids, an organization that brings college students from USC, UCLA and other colleges to visit underprivileged schools and foster interest in reading books.

The program focuses mainly on children from low-income families where English is not their primary language.

"The volunteers have a desire to come out and engage the kids in a book," said Jen Smith, an administrative assistant at the UCLA Bruincorps. "It makes a difference in the child's life, and they enjoy watching adults reading a book to them."

The purpose of College Spirit Day was to get volunteers to wear their college apparel both as a competition to see which college was best represented and to get children excited about a college environment.

There were 29 students from USC at the event, but the overall winner was UCLA with 56 volunteers. UCLA also won College Spirit Day last year.

Seeing older students wearing their college apparel makes elementary school students want to go to college, Maryanna Abdo, program director for Reading to Kids, said.

Abdo also said that for many of the children, early planning for college is crucial because it might be too late by high school.

"Reading to kids really provides an excellent opportunity for kids in the surrounding community to develop. Eventually, hopefully, these kids will have an opportunity to go to USC," Lee Diaz, president of Alpha Phi Omega, said.

Volunteers interacted with children in reading, singing and making crafts related to the stories read.

"They were a nice group of kids," said Alex Vejnoska, a freshman majoring in philosophy and classics. "It looked like they were really eager to learn."

While College Spirit Day is an annual event, Reading to Kids holds book readings twice a month.

The flexible scheduling and close locations of the schools attracted many volunteers to the program.

"We've got hundreds and hundreds of kids who could be watching cartoons Saturday morning who choose to be here every month," Tracy Wilkison, a volunteer and lawyer for the U.S. Attorney's Office, said. "We're here to get them excited about books."

Volunteers said programs like Reading to Kids are important.

"A lot of (the students) can't speak English fluently, which reiterates the fact that we need more programs like this," Sue Jin, a senior at UCLA majoring in anthropology, said.



| | |
| --- | --- |
| Article Tools: | Page 1 of 1 |

in this issue