Reading Club Site Operations Team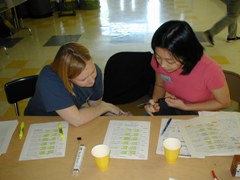 Some veteran volunteers help out with the coordination and logistics aspects of the reading clubs.
The reading clubs require a fair amount of coordination in order to run smoothly, and much of the success of these events can be attributed to a dedicated group of volunteers who comprise each school's "Site Operations Team."
There are six main roles which are filled monthly by volunteers who wish to add an extra dimension to their service with Reading to Kids: Site Coordinators, Training Coordinators, Grade Level Coordinators, Food Runners, Operations Helpers, and Volunteer Check in Helpers.
Site Coordinators are responsible for overseeing the successful operation of the reading clubs. They arrive by 8:00 a.m. and ensure that the facilities, books, supplies, and volunteer teams are all ready so that the children can enjoy a fun day of reading and crafts. They liaise with school personnel, greet arriving volunteers, and answer any and all questions that may arise. Volunteers who have helped often enough to be familiar with the reading club format are encouraged to contact us about serving as Site Coordinators.
Site Operations Team Manuals
Training Coordinators are responsible for facilitating new volunteer training with the teacher on call and for leading an orientation session with returning volunteers. Returning volunteer orientation provides a forum for more experienced and less experienced readers to share useful ideas on being better prepared and more effective in the classroom with the kids. Training coordinators often serve as readers that morning as well. Veteran volunteers who have served as Grade-Level Coordinators and have a zest for public speaking are encouraged to contact us about helping as a Training Coordinator. Training Coordinators arrive at 8:30 a.m.
Grade-Level Coordinators (GLCs) are responsible for engaging volunteers at their grade-level tables in productive discussion about reading strategies and club management techniques so that the children get the most out of their reading club time. They answer questions about reading club procedures and try to make sure that all volunteer teams are well equipped to have a fun reading club experience. GLCs also serve as readers that morning, and they arrive at 8:30 a.m. to help the Site Coordinators set up. Volunteers who have read with us at least three times are encouraged to RSVP as GLCs.
Food Runners are responsible for picking up donated breakfast foods or purchasing sundries or additional food or beverage items. Purchased items are reimbursed by Reading to Kids. They communicate with either the program director or the Site Coordinators during the week before the reading clubs and arrive with the food items by 8:30 a.m. on Saturday morning. Food Runners also serve as readers. All dependable volunteers who would like to take on this vital role are encouraged to introduce themselves to the Site Coordinators so that we can contact them about helping as a Food Runner when they RSVP.
Site Operations Helpers provide logistical support on the morning of the reading clubs. Some volunteers who are already familiar with the book they are reading will help to register incoming volunteers. Others will help to organize or distribute craft supplies or giveaway books for the children. Some may even help sign in the children and assign them to their reading club rooms. Site Operations Helpers also serve as readers that morning. Volunteers who are itching to help out should inform their Site Coordinators that they can be called upon for help if needed. Site Operations Helpers arrive at 8:00 a.m. (though sometimes as late as 8:30 a.m., depending upon their responsibilities that morning).
Volunteer Check In Helpers are responsible for greeting and signing in volunteers as they arrive at the reading clubs. They make sure volunteers have name tags, provide them with handouts about the reading clubs, direct them to the appropriate grade level table, and sign them in on the volunteer roster. Returning volunteers who would like to be the friendly face welcoming everyone in the morning are encouraged to RSVP for Volunteer Check In. Volunteer Check In helpers arrive by 8:20 a.m.