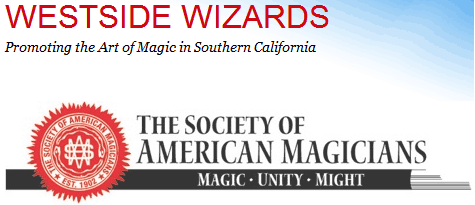 Last updated October 9, 2015
Westside Wizards
Reading to Kids thanks the Westside Wizards who volunteer performances of magic at our October reading clubs.
"The Westside Wizards are dedicated to promoting magic as a performing art in the West Los Angeles area. Club members meet monthly to perform in front of their peers in a supportive setting. Members share their knowledge and experience in magic and performing techniques. The club invites well known magicians from around the world, who deliver lectures throughout the year. We meet the 2nd Tuesday of every month at Stoner Park OPICA Adult Day Care Facility, 11759 Missouri Avenue, Los Angeles, CA 90025."
"The Society of American Magicians, founded on May 10, 1902 in Martinka's famous magic shop in New York City, New York, is the oldest and most prestigious magical society in the world. For over a century it has promoted the ideals shared by Kellar, Houdini, Thurston and over 30,000 others world-wide who have held membership in the society. The S.A.M. offers the opportunity to unite and associate with leaders in the World of Magic - not only professionals, but with amateurs, manufacturers, magic dealers, book authors and magic collectors."