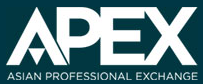 Last updated February 6, 2019
Asian Professional Exchange (APEX)
Reading to Kids thanks the members of APEX who volunteer at our reading clubs.
"The Asian Professional Exchange (APEX) is a 501(c)(3) non-profit, non-partisan community based organization with multifaceted goals and purposes that are charitable, cultural and educational in nature. Established in 1993, APEX currently boasts an e-community membership of 10,000 members.

The purpose of APEX is to serve as a medium to bring increased awareness about and to Asian Americans through community service, fellowship, charitable fundraisers, cultural events, professional networking and educational seminars. By combining diverse skills and resources to support common goals, APEX strives to benefit not only the Asian American community, but also society at large. "