About Reading to Kids

Last updated September 12, 2023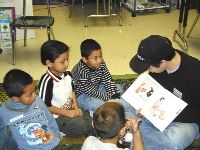 "The single most important activity for building the knowledge required for eventual success in reading is reading aloud to children." - Nat'l Commission on Reading, 1985




Reading to Kids is listed on GuideStar, the online standard for nonprofit accountability.
Please click on the logo for additional information.

Reading to Kids is a grassroots organization dedicated to inspiring underserved children with a love of reading, thereby enriching their lives and opportunities for success in the future. To this end, Reading to Kids gathers on average 554 children and 287 volunteers prior to the COVID-19 pandemic - on average 332 children and 189 volunteers during and since the pandemic - at reading clubs on the second Saturday of every month at eight Los Angeles elementary schools.
At the monthly reading clubs, pairs of volunteers read aloud to small groups of children, while their parents receive training on how to encourage their children to read at home. Kids, parents, teachers, and school libraries receive book donations at the end of the reading clubs. These are important donations, as 60 percent of low-income homes do not have age-appropriate reading materials for children.
Click the play button below for a video that explains what to expect at your first reading club.
Since its inception in 1999, Reading to Kids has given 187,418 prize books to children who attend the reading clubs, donated 35,193 hardcover books to school libraries, and our volunteers have spent 233,703 hours reading to kids. Click here to see our entry on Wikipedia.
Reading to Kids is incorporated as a nonprofit corporation under the laws of the state of California and has been classified as an organization described in section 501(c)(3) of the federal Internal Revenue Code. The organization is exempt from both state and federal taxes; our tax ID number is 95-4758698.
Click on the links for additional information about Reading to Kids:
• Reading to Kids Financial Statements (2021-2022)
• Reading to Kids Federal Tax Return (2021 Form 990)

The links are in Adobe® Portable Document Format (PDF) and will open in a new window when you click on them. To download a free copy of Adobe Acrobat Reader, click here.