Our September 9th "Back to School Fun" reading clubs are this Saturday, and we still need 12 more volunteer readers!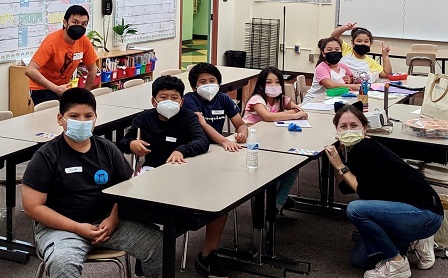 Start by signing up today! Next, join our September 9th Facebook event and share with your friends!
If we are full when you check, please keep checking back today and tomorrow for new spots.
Please also email and post on your Twitter/Facebook/Instagram/ etc. that we need more volunteers. Be sure to tell your friends and family:
1) The reading clubs are this Saturday morning near Downtown LA
2) Volunteers must sign up online at www.readingtokids.org by 3pm tomorrow (Friday)
3) The school at which you will be reading
(If you have signed up and can't make it after all, please cancel your RSVP online immediately to make room for another volunteer.)
_______________________________________________
STEP IN TO A BIGGER VOLUNTEER ROLE
AT THIS SATURDAY'S READING CLUBS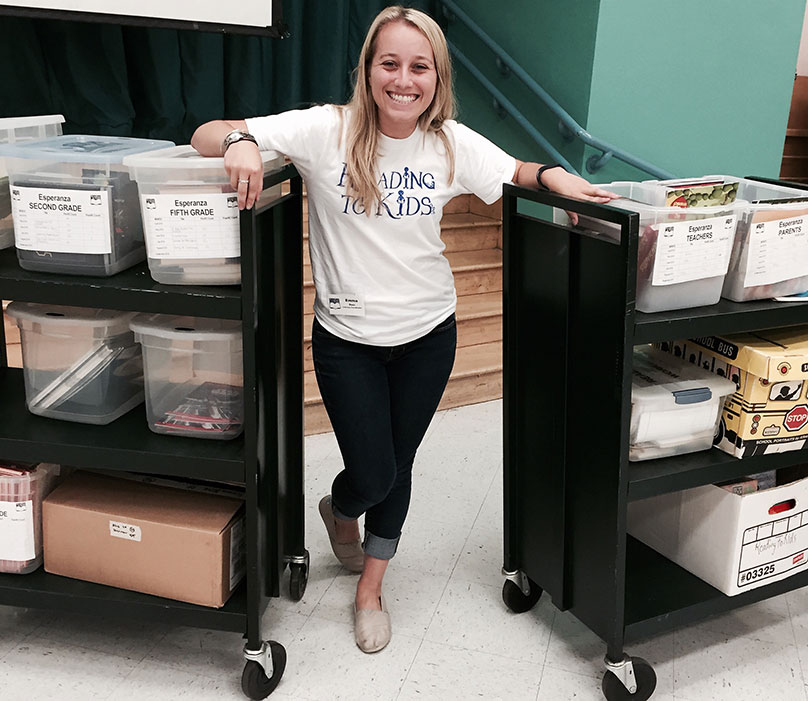 We also need more of our experienced volunteers to help in any of the following roles this Saturday, so please e-mail us at
info@readingtokids.org
if you can help:
- Training Coordinator at Gratts or White
- GLC at Esperanza (5th), or Gratts (1st or 3rd)
- Check-in Helper at Alta Loma, Esperanza, Mac. Park, Magnolia, or White
If you can help in any of those roles, please visit our home page at
www.readingtokids.org
and submit your email address in the yellow box, as usual!
Then, e-mail us at info@readingtokids.org to tell us the above role you would like to take on to help create wonderful reading clubs!
_______________________________________________
SITE COORDINATORS
ZOOM MEETING TONIGHT AT 7PM
Tonight please join us for our Operations Committee / Site Coordinators Zoom Meeting at 7pm. We'll review our reading club procedures as we prepare for a fantastic new school year!

We are always looking for more Site Coordinators and Site Operations Helpers, so please e-mail us at info@readingtokids.org and we'll send you the Zoom information!
_______________________________________________
HELP! FIVE VOLUNTEERS NEEDED THIS SATURDAY AT 5PM
FOR THIS FUNDRAISER!
TABLE ATE -
A CAJUN FUSION OCCASION / ART & CULINARY
FUNDRAISING EVENT
5PM - 10PM THIS SAT. 9/9/23:
VOLUNTEER OR BUY YOUR TICKETS NOW!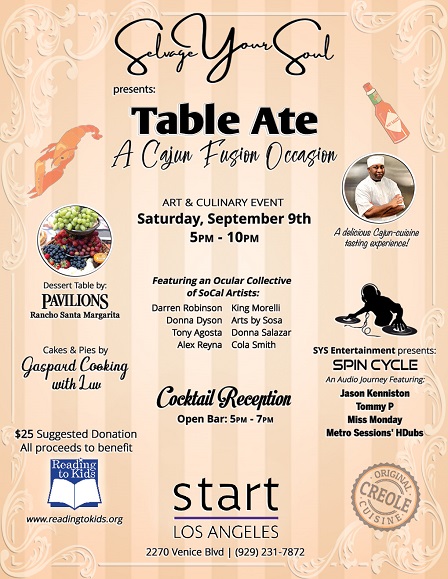 This Saturday, September 9th, one of our most dedicated volunteers, Prince Selvage III, presents a celebration of food and art fundraiser for Reading to Kids!
Prince Needs Five Volunteers!
Prince also needs volunteers to help that evening, so please e-mail him at
princetrey@yahoo.com
to volunteer and enjoy the evening!
His event is in the evening (after our September reading clubs) from 5pm to 10pm and features a variety of food and art in a gallery setting!
Purchase your ticket to attend with a suggested $25 donation. Click this link to donate and secure your ticket today before they sell out!
Join us as we enjoy an expansive tasting of dishes such as Seafood Gumbo, Cajun Jambalaya, Southern Soul Braised Chicken, and a variety of other tantalizing soul food treats prepared by Selvage Your Soul, complimented with a delectable dessert table curated by Donna Salazar of Pavilions (Rancho Santa Margarita) featuring cakes and pies by Gaspard Cooking With Luv!

Attendees will view the works of eight southern California artists while enjoying beats and grooves by a rotating roster of four of LA's finest DJs! Click here for the Facebook event.
WHEN: This Saturday, September 9th, 5pm - 10pm
WHERE: START Los Angeles gallery
2270 Venice Boulevard
Los Angeles, CA 90006
startlosangeles.com
Cost: $25 suggested donation, with all proceeds benefiting Reading to Kids!
Click the ticketing link above for details!
_______________________________________________
SUPPORT US WITH GROCERY STORE ESCRIP

Did you know you can support Reading to Kids just by shopping at the grocery store or using your credit card?
eScrip and Ralphs both have programs that are NO COST ways for you to donate to Reading to Kids.
All you have to do is call Ralphs or go online and register your grocery cards. When you use those cards at a participating store or service provider, the store will donate a percentage of your purchases to Reading to Kids!
Click here for simple instructions on how to sign up or renew! Or, you can call Ralphs Community Contribution Program at (800) 443-4438. Explain you want to register your Ralphs card number and your telephone number. Reading to Kids NPO# is BR278.
Note if you have previously signed up: You have to renew your registration each year on or after September 1st, so please renew again for this year!
_______________________________________________