Big reading clubs are back, so we need another 103 more volunteers for September 9th!
Here are five easy ways to recruit your friends, co-workers, and family members today:
_______________________________________________
SITE COORDINATORS
ZOOM MEETING THURSDAY, 9/7 At 7PM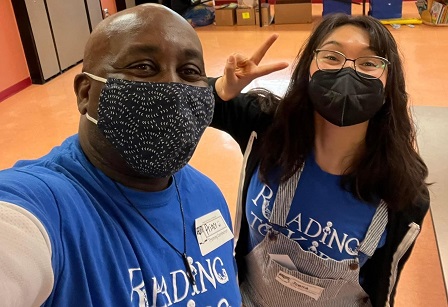 Thur. Sept. 7 – Operations Committee / Site Coordinators Zoom Meeting at 7pm. We'll review our reading club procedures as we prepare for a fantastic new school year!

We are urgently looking for more Site Coordinators and Site Operations Helpers, so please e-mail us at info@readingtokids.org and we'll send you the Zoom information!
_______________________________________________
READING TO KIDS AMBASSADORS
NEEDED TO HELP KICK OFF
THE NEW SCHOOL YEAR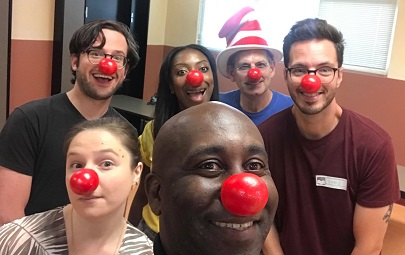 With the 2023-24 school year started, we have many opportunities for you to help us promote Reading to Kids at our partner schools as a Reading to Kids Ambassador.
There are three different ways you can help:
Teacher Breakfast Deliveries
Back-to-School-Nights
Classroom Visits week of Sept. 4th
We'll supply everything you need, including what to say if parents ask questions and to the kids during classroom visits (explained below). Although it's great if you can speak Spanish (even a little), all of our parent materials are bilingual, and there's always someone who can translate for you at the school.
During the week of September 4th we need ambassadors to visit any of our schools for an hour during the school day to visit each classroom to encourage kids to come to the September 9th reading clubs held on their campuses. Reply to this email if you can be an ambassador for an hour that week!
Our Ambassadors always have a great time with the kids and parents - come find out why!
If you can be an Ambassador, please e-mail us at info@readingtokids.org or call (310) 479-7455.
_______________________________________________
HAPPY HOUR AT THE ONEUP LOUNGE/ARCADE
NEXT WEDNESDAY, AUGUST 30TH AT 6PM!

Join us next Wednesday, August 30th, at 6pm for Happy Hour at The OneUp Gastrolounge & Arcade!
Eat, Drink, and Play with Reading to Kids supporters at The OneUp in Sherman Oaks. We'll be there at 6:00pm for Happy Hour, which features $5 food and drink specials, in addition to the loads and loads of FREE GAMES to play! (Check out the list here: www.theoneup.com/games)
This event is 21+.
Come on by! There are ample parking options around the area. Enjoy Happy Hour specials until 8pm, and our party will continue into the evening.
The OneUp
13625 Ventura Blvd.
Sherman Oaks, CA 91423
_______________________________________________
TABLE ATE -
A CAJUN FUSION OCCASION / ART & CULINARY
FUNDRAISING EVENT
5PM - 10PM ON SAT. 9/9/23:
BUY YOUR TICKETS NOW!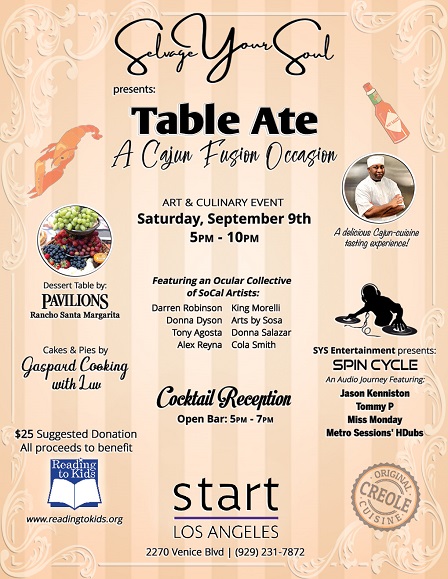 On Saturday, September 9th, one of our most dedicated volunteers, Prince Selvage III, presents a celebration of food and art fundraiser for Reading to Kids!
His event is in the evening (after our September reading clubs) from 5pm to 10pm and features a variety of food and art in a gallery setting!
Purchase your ticket to attend with a suggested $25 donation. Click this link to donate and secure your ticket today before they sell out!
Join us as we enjoy an expansive tasting of dishes such as Seafood Gumbo, Cajun Jambalaya, Southern Soul Braised Chicken, and a variety of other tantalizing soul food treats prepared by Selvage Your Soul, complimented with a delectable dessert table curated by Donna Salazar of Pavilions (Rancho Santa Margarita) featuring cakes and pies by Gaspard Cooking With Luv!

Attendees will view the works of eight southern California artists while enjoying beats and grooves by a rotating roster of four of LA's finest DJs! Click here for the Facebook event.
WHEN:   Saturday, September 9th, 5pm - 10pm
WHERE: START Los Angeles gallery
               2270 Venice Boulevard
               Los Angeles, CA 90006
               startlosangeles.com
Cost:  $25 suggested donation, with all proceeds benefiting Reading to Kids!
Click the ticketing link above for details!
_______________________________________________
Thanks, and we hope you can join us for any or all the above!