Even though it was the last weekend of their summer break, last Saturday 212 kids, 141 volunteers, 100 parents, and 23 teachers & staff helped to make our August 12th reading clubs a success!
We had nearly 400% more kids join us this Saturday than at our August 2022 reading clubs!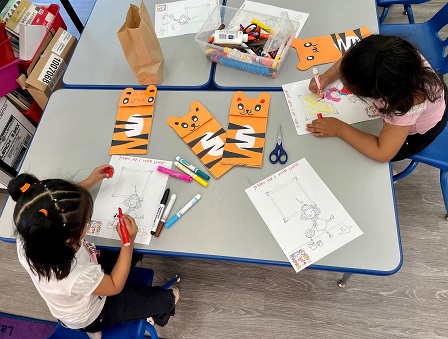 Kindergartners creating crafts at MacArthur Park Elem. after reading Luna Loves Art.
Click the photo to see it full-size!
_______________________________________________
Please be sure to sign up for the next reading clubs! Click here to submit your RSVP for our "Back to School Fun" reading clubs on September 9th.

We will need hundreds of volunteers for these September reading clubs, so please sign up early and recruit your friends, co-workers, and family members as volunteers! Here are four easy ways to do that: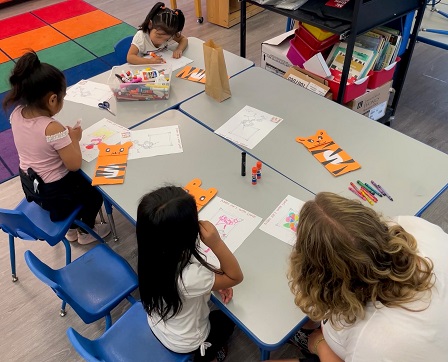 _______________________________________________
INTRODUCING OUR NEW LITERACY COORDINATOR,
CIARA KELLY!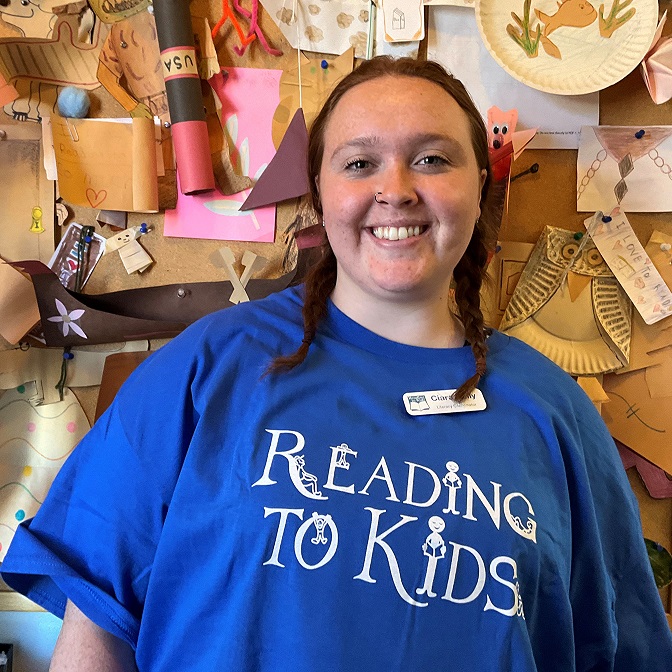 (Click on the above image to see it full size)
It is also our pleasure to announce that Ciara Kelly joined us at Saturday's reading clubs as our new Literacy Coordinator!
Ciara joins us as an AmeriCorps VISTA Volunteer Corps member for the 2023-24 school year, and during her 12-month term with us she will focus on logistics and implementation of our reading clubs at all of our schools, as well as increasing kid, parent, and teacher participation each month.
Ciara has a BA in Political Science from Loyola University Maryland, where she also served 2 1/2 years as a Student Coordinator in their Center for Community, Service, and Justice.
Please welcome Ciara as you meet her at the reading clubs, El Cholo, and our office!
_______________________________________________
READING TO KIDS AMBASSADORS
NEEDED TO HELP KICK OFF
THE NEW SCHOOL YEAR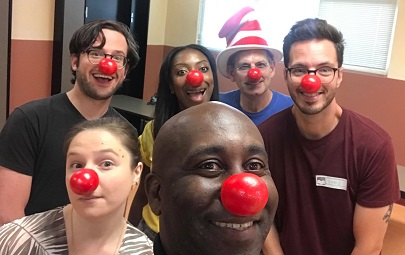 With the 2023-24 school year beginning this week, we have many opportunities for you to help us promote Reading to Kids at our partner schools as a Reading to Kids Ambassador.
There are three different ways you can help: Classroom Walk-Throughs, Teacher Breakfast Deliveries, and Back-to-School-Nights.
We'll supply everything you need, including what to say at the Back-to-School-Nights. Although it's great if you can speak Spanish (even a little), all of our parent materials are bilingual, and there's always someone who can translate for you at the school.
These events set the course for the rest of the year and are a wonderful way to interact with the kids, parents, and teachers.
If you are an experienced volunteer with us and are interested in being an Ambassador, please e-mail us at info@readingtokids.org or call (310) 479-7455.
_______________________________________________
MUSIC & FOOD TOMORROW,
6PM AT THE PENMAR IN VENICE!

Tomorrow at 6:00pm join fellow Reading to Kids volunteers and supporters for Sunset Sessions at The Penmar!
Enjoy live music, beer, wine, cocktails, food, and great company at The Penmar Golf Course in Venice. This is a kid-friendly, dog-friendly, outdoor event featuring a limited menu and an eclectic mix of music.
We will begin gathering at 6:00pm, when the music begins (doors open at 4:30pm). We will be at Table 45, which seats eight.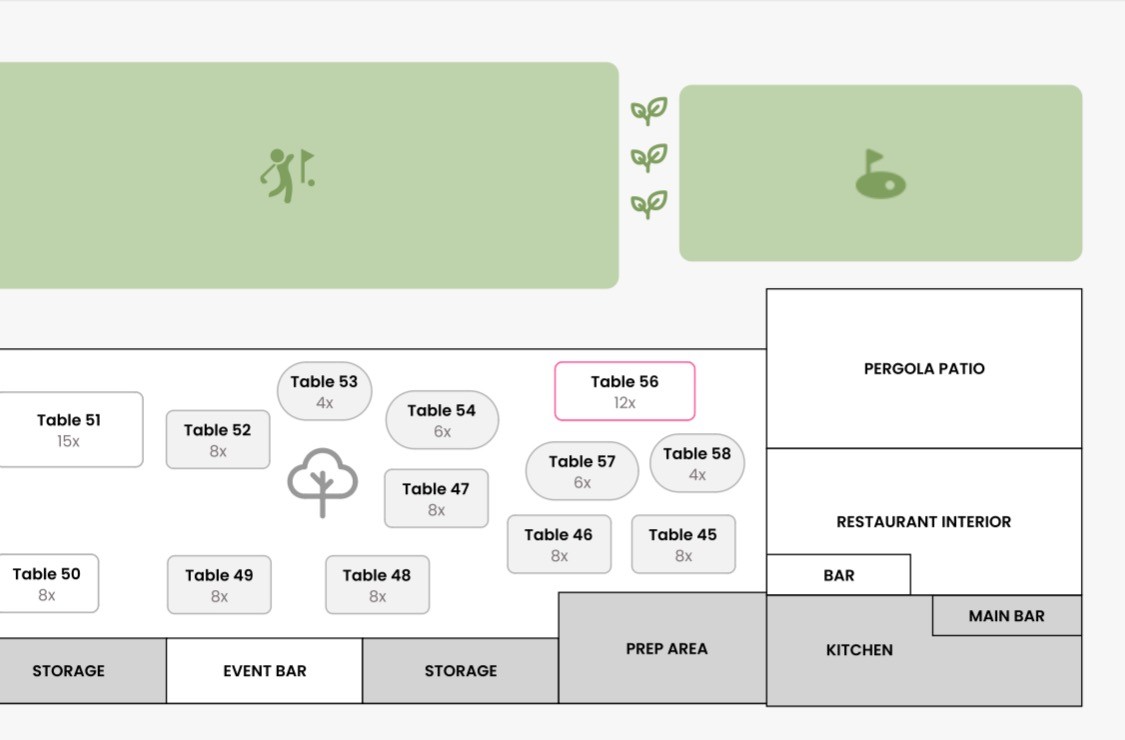 Table seating will be limited, but feel free to bring lawn chairs or blankets to sit around the putting green and the first tee box to enjoy the show.
The entry fee is $12.50, but you can pre-pay the entry fee for $11.00 and avoid waiting in line by clicking this link: https://fanimal.com/venue/the-penmar/f862153219519246989. Children ages 2 and under are free, and there is a large parking lot and plenty of street parking!
The address is 1233 Rose Avenue, Venice, CA 90291. For more information, please visit the Sunset Sessions FAQ page at https://thepenmar.com/asked-%26-answered.
_______________________________________________
HAPPY HOUR AT THE ONEUP LOUNGE/ARCADE
WEDNESDAY, AUGUST 30TH AT 6PM!

Join us on Wednesday, August 30th, at 6pm for Happy Hour at The OneUp Gastrolounge & Arcade!
Eat, Drink, and Play with Reading to Kids supporters at The OneUp in Sherman Oaks. We'll be there at 6:00pm for Happy Hour, which features $5 food and drink specials, in addition to the loads and loads of FREE GAMES to play! (Check out the list here: www.theoneup.com/games)
This event is 21+.
Come on by! There are ample parking options around the area. Enjoy Happy Hour specials until 8pm, and our party will continue into the evening.
The OneUp
13625 Ventura Blvd.
Sherman Oaks, CA 91423
_______________________________________________