We're just two days away from our August 12th "Arts & Creativity" reading clubs, and we may need a few more volunteer readers this Saturday!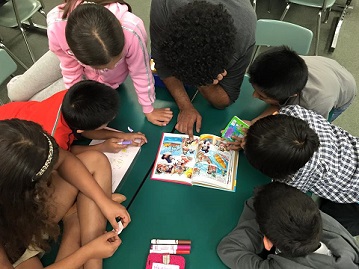 If we are full when you check our website, please keep checking back today and tomorrow for new spots in case someone cancels.
If you are signed up but know you can't join us, cancel your RSVP here immediately so someone else can read in your place!
These smaller summer reading clubs are the perfect time for
those who have volunteered with us a few times recently
to step into and learn any of our important Operations roles - all training very pleasantly provided!
Please e-mail us at info@readingtokids.org if you can volunteer for any of the following roles:
GLC at MacArthur Park (2nd) or Politi (2nd)
Check-in Helper at Alta Loma
Site Operations Helper at any school!
(August is a great month to learn this role!)
If your school is full and you are an experienced volunteer with us, let us know if you can fill any of the above roles and we'll happily add in your RSVP.
_______________________________________________
BE A READING TO KIDS AMBASSADOR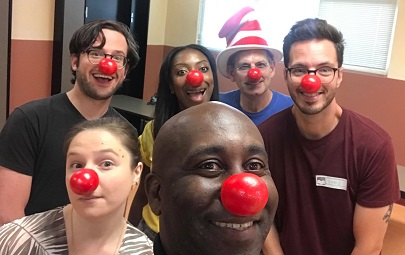 With the 2023-24 school year beginning next week, we have many opportunities for you to help us promote Reading to Kids at our partner schools as a Reading to Kids Ambassador.
There are three different ways you can help: Kindergarten Orientations, Teacher Breakfast Deliveries, and Back-to-School-Nights.
We'll supply everything you need, including what to say at the Kindergarten Orientations. Although it's great if you can speak Spanish (even a little), all of our parent materials are bilingual, and there's always someone who can translate for you at the school.
These events set the course for the rest of the year and are a wonderful way to interact with the kids, parents, and teachers.
If you are an experienced volunteer with us and are interested in being an Ambassador, please e-mail us at info@readingtokids.org or call (310) 479-7455.
_______________________________________________
MUSIC & FOOD FRIDAY, AUGUST 18TH,
6PM AT THE PENMAR IN VENICE!

Next Friday, August 18th, at 6:00pm join fellow Reading to Kids volunteers and supporters for Sunset Sessions at The Penmar!
Enjoy live music, beer, wine, cocktails, food, and great company at The Penmar Golf Course in Venice. This is a kid-friendly, dog-friendly, outdoor event featuring a limited menu and an eclectic mix of music.
We will begin gathering at 6:00pm, when the music begins (doors open at 4:30pm). Table seating will be limited, but feel free to bring lawn chairs or blankets to sit around the putting green and the first tee box to enjoy the show.
The entry fee is $12.50, but you can pre-pay the entry fee for $11.00 and avoid waiting in line by clicking this link: https://fanimal.com/venue/the-penmar/f862153219519246989. Children ages 2 and under are free, and there is a large parking lot and plenty of street parking!
The address is 1233 Rose Avenue, Venice, CA 90291. For more information, please visit the Sunset Sessions FAQ page at https://thepenmar.com/asked-%26-answered.
_______________________________________________
HAPPY HOUR AT THE ONEUP LOUNGE/ARCADE
WEDNESDAY, AUGUST 30TH AT 6PM!

Join us on Wednesday, August 30th, at 6pm for Happy Hour at The OneUp Gastrolounge & Arcade!
Eat, Drink, and Play with Reading to Kids supporters at The OneUp in Sherman Oaks. We'll be there at 6:00pm for Happy Hour, which features $5 food and drink specials, in addition to the loads and loads of FREE GAMES to play! (Check out the list here: www.theoneup.com/games)
This event is 21+.
Come on by! There are ample parking options around the area. Enjoy Happy Hour specials until 8pm, and our party will continue into the evening.
The OneUp
13625 Ventura Blvd.
Sherman Oaks, CA 91423
_______________________________________________