Dear Friends of Reading to Kids,
We were founded in May 1999, which means Reading to Kids is actually six months older than our current Literacy Coordinator, Diego Cruz!

Being 24 years old also means we have had six people who have read with us at 200 or more reading clubs - and the latest to join that group is Gratts Site Operations Helper and Training Coordinator Kori Wilson!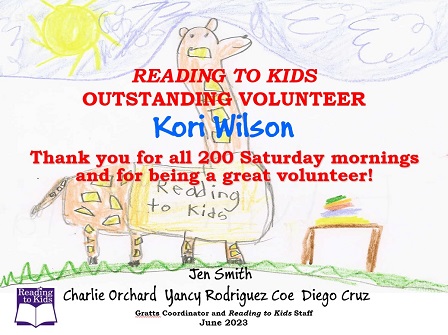 Be like Kori and read on about how you can help us put on great reading clubs!
_______________________________________________
A FEW SPOTS LEFT FOR JULY 8TH
SUMMER READING CLUBS
If you can join us for a July 8th summer morning of reading, then click here to submit your RSVP for our July 8th "Amazing Animals" reading clubs.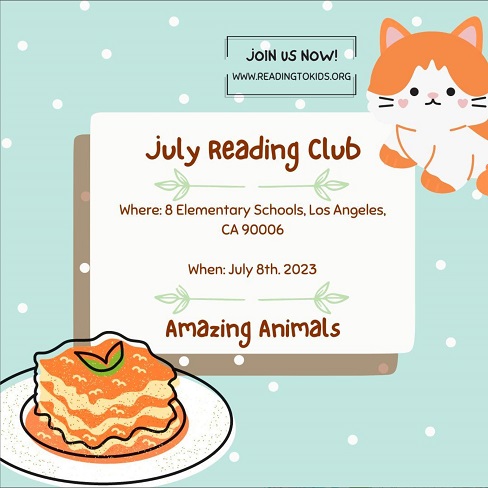 These July reading clubs are a little smaller because the schools will be in the middle of their summer break, so be sure to sign up early!
If you check our website and find all reader spots are full, please keep checking back over the next week so we'll have enough volunteers in case someone had to cancel.
(If you have signed up and can't make it after all, please cancel your RSVP online immediately to make room for another volunteer.)
STEP INTO A
BIGGER VOLUNTEER ROLE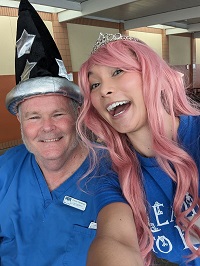 We
urgently need
experienced volunteers to take on more leadership with us by
helping train new and returning volunteers, being a GLC, or especially being a Site Operations Helper
at any of our schools.
If you can help in any of those roles, please visit our home page at
www.readingtokids.org
and submit your email address in the yellow box, as usual!
Then, e-mail us at info@readingtokids.org to tell us the above role you would like to take on to help create wonderful reading clubs!
Or, if you want to help in other ways (Curriculum, Marketing, etc.), and have volunteered with us three or more times, consider joining our Taskforce.
_______________________________________________
READING TO KIDS IS HIRING -
APPLY NOW!
Reading to Kids is hiring a Literacy Coordinator through AmeriCorps for a 12 month position starting in August!
The position is posted on our website, where you can read it by clicking on the Literacy Coordinator button below Latest News.

Please also share the above link to the position with anyone you think would be a good fit, especially if they have volunteered with us as readers or other roles!
_______________________________________________
Thanks, and we hope you enjoy a safe and festive 4th of July!