Inspire a Love of Reading
by making your contribution to the
Reading to Kids
2009 Annual Fund Drive
Each year, from the September to the November reading clubs, we ask our supporters to help us inspire underserved children with a love of reading by making a donation to Reading to Kids.

Reading to Kids has been able to thrive thanks to the thousands of hours of participation by teachers, administrators, parents, volunteers, and elementary school children, and thanks to generous financial contributions by foundations, businesses, agencies, and individuals like you.
In May 1999, Reading to Kids held its first reading club with 8 volunteers and 20 students at Gratts Elementary School. Ten years later, an average of 400 Reading to Kids volunteers read to 1,100 children each month at eight elementary schools!
Kids emerge from our program with more enthusiasm for reading, books for their home library, stronger school libraries, personal relationships with volunteers, and an enhanced appreciation for reading in English!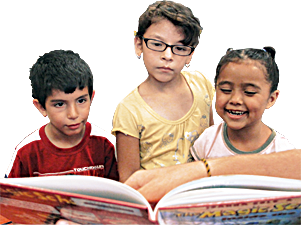 In order to sustain and expand our program, we need your help! Your donation will help to purchase hardcover books for elementary school libraries in low-income communities, fund book donations directly to children and parents to help them develop their own home libraries, and expand our program into new schools and communities.

Last year, we were extremely grateful for your contributions of over $40,000! This year, our goal is to raise at least $45,000 from 850 donors over the next two months.
Please join us by making a donation to Reading to Kids
If you have any questions regarding the
Annual Fund Drive, please feel free to
contact Lisa Flores at the Reading to Kids office at (310) 479-7455 or by e-mail at
Lisa.Flores @ readingtokids.org.
Thank you for your support!

Donate by check:
Please make checks payable to Reading to Kids and mail to our office along with this form:

Reading to Kids
1600 Sawtelle Boulevard, Suite 210
Los Angeles, CA 90025


Donate by credit card:
No Processing Fees!
Donate Monthly:
Click here

if you would like to set up a monthly credit card

donation using Network for Good.



Help us Fundraise!
Supporters who would like to encourage family and friends to donate to Reading to Kids can use our Reading to Kids donor form OR create a personalized fundraising page on Facebook.
Special thanks to our top fundraisers in 2009!
What Can Your Dollars Buy?
Here are some examples* of how your contribution can make a difference in the lives of the young readers we work with each month:
$5
4 take-home prize books for participating kids
$18
15 take-home prize books for participating kids
$50
4 hardcover read-aloud books
$115
100 take-home prize books for participating kids
$360
1 month worth of read-aloud books at one school
$575
500 take-home prize books for participating kids
$750
All of the reading club expenses (books, supplies, and food) for month of reading clubs at one school
$1,150
1,000 take-home prize books for participating kids
$10,000
All of the reading club expenses (books, supplies, and food) for one year of reading clubs at one school
*Note: All prices and purchases are approximations that illustrate the cost of these items for Reading to Kids.

Thanks to Our 2009
Annual Fund Drive Participants!
Anonymous (37)
Maryanna Abdo
Harold M. Aberman
Jamie Adao
Lidia Aguilar
Atanasia Alas
Bobby Anand
Liz Anderson
Douglas Andrade
Susan Andrews
Claudua Aguilar
Archana Alatkar
Greg Alexanian
Teri Apodaca
Ingrid Aquino-Gomez
Marie Atilano
Margaret Lisa Atmodjo
Mary Auth
Janice Baskin
Jonathan Bassig
Beth Bayer
Emily Beaghan
John Belardes
Emma Bell
Joanna Belson
Deborah Bender
Kristin Bergstrom
Ellie Bloomfield
Arthur J. Botting III
Adrienne Brauchle
Patrick Brown
Steve Brown
Julia Buck
Jane & August Buenz
Tam Bui
David Callahan
Elvira Canales
Chrissie Canino
Michael Carne
John Chae
Rebekah Chon
Victor Chao
Jamie Chazen
Eric S. Chen
Oscar Chen
Robyn Chew
David Clark
Meredith Cruse
Carolina Cruz
Elvira Cruz
Paula D' Andrea
Viet Dao
Antonia Damacio
Mitchell Dawson
Sarah Dawson
Areli Delgado
Anna Maria Diaz
Daren DiNicola
Damon Dunbar
Jill E. Durkin
Lorelei Duterte
Edison Downtown, Inc.
Anthony Eescamilla
Guadalupe Escamilla
Carlos Escobar
Ellaine Evangelista
Melinda Feng
David Fink
Beth I. Flores
Jill Flores
Lisa Flores
Daniel J. Flynn
Patrick Furlong
Blanca Garcia
Chris Garcia
Astrid Galindo
Maria Gallardo
Scotty Galloway
Vince Gealy
Audrey George
Clifford B. Gillman
Grant M. Gish
Jerold Goldstein
Suzanne Golisz
Lilia Gomez
Angelina Gratiano
Courtney Guy
Rohini Hak
Owen Hall
Phyllis Hall
Pamela Halpern
Annette Harbinger
Dean Hashimoto
Douglas Hearns
Alexis Hebron
Sivilay S. Henry
Lorena Hernandez
David Herron
Suzanne & Lawrence Hess
Elissa Horne
Ray Hufnagel
Sally Ito
Ed Jackson
Jennifer Jackson
Azadeh Jahanbakhsh
Jennifer Jastrzab
Joyce Jastrzab
Tracey Jong
Amie Elizabeth Judd
McKenzie Kaiser
Dina Kampmeyer
Karen & Stephen Katz
Jen Kehs
Catherine Kersh
Kessel Communications
Linus Kim
Joe Kling
Nicole Kong
Melanie Koopman-Glass
Carrie Kost
Gaile Krause
Sandy Kremenic
Ben Kucinski
Nikki Kuretz
Grace Lan
Marsha Lenox
Amy Levine
Jenny Liem
Abigail Lillich
Diane Lim
Wendy Linderholm
Cathy Line
Tracy Line
Antonia Llanes
Maria Lopez
Norma Lopez
Stephanie Lowe
Concepcion Luis
Sonia J. Luna
Kathleen Lungren
Adam Lupa
Nancy Lyon
Laura & Henry MacMorran
Rosemarie Marcotte
Cliff W. Marcus
Lynette Marie
Chris Martin
Christopher P. Martin
Craig May
Mark May
Marty & Michael May
Juliane McAdam
Liz McClure
David McLaughlin
Vince McLeod
Christopher Rene Mendez
Brenda J. Menjivar






Sarah Miano
Brian Mitchell
Cynthia & Mayra Montes
Sean Morris
Don Moseley
Sima Namiri
Michael Nanko
Irene Navarrete
Joy Nicolini
Mary Njendu
Joni L. Novosel
Omolola Ogunyemi
Victoria Oman
Carrie & Charlie Orchard
Erick Organo
Amanda Ornelas
Cathy Ostiller
Rosemarie & James Ostiller
Maria Patino
Apur Parikh
Edward Hyun Park
Chris Pederson
Patty Peters
Victoria Pipkin-Lane
John Porter
Julia A. Powers
Adam Radomski
Alli Radomski
Jean Radomski
Lisa Radomski
Michael Radomski
Nate Radomski
Veronica Ramirez-Pena
Jaci Reber
Marisol Reyes
Saeed Rezvani
TyTanisha Rice
David Rickard
Sonja Roberston
Ines Romero
Mariel Rubio
Kenneth Sabot
Wendy Sae-Tang
Liset V. Sanchez
Yara Ibana Sanchez
Jessica Senn
Andrea Schall
Lynette Scheid
Alyssa Schlange
Derek Shannon
Rick Shimano
Tamira Shimoda
Patrice Simmons
Therease Silvabaroa
Maggie Sketch
Carey Soifer
Kelly Solomon
Marie Speakman
Jeff Spencer
Karen Stapley
Mary Lorraine Stewart
Suhaila Suhimi
Marika & David Sykora
Ashley Tabaddor
Tami Tarnow
Jessica Tritsch Tatro
Stephanie Taylor
Peter Thaler
Matt Thatcher
Ingrid Torres
Kate & David Trifiletti
Kim Truong
Truc Tu
Jerry Tung
Cynthia Turner
Mirna Valiente
Maria Valle
Lisa M. Van Fossen
Cynthia Vazquez
Jean & John Vondras
David Wang
Lizanne Webb
Jeff Weber
Susan Weber
Julie Weidmann
Josh Weldon
Christina Wherry
Jackalyn & Smith Wilcox
Joy Wilson
Scott T. Winkelmann
Leslie Wolff
Susan Wong
Virginia & Richard Wong
Madge Woods
Jennifer L. Wordham
Damien Wright
J.G. Wright
Carol Wysocki
Elizabeth Yng-Wong
Maurice Zwass




If your name should be included in this list,
please contact Lisa Flores at
Lisa.Flores @readingtokids.org to let us know.