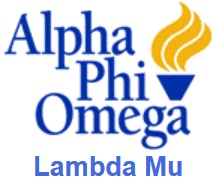 Last updated December 28, 2017
CSULA Alpha Phi Omega

Reading to Kids thanks the members of Cal State Los Angeles Alpha Phi Omega who volunteer at our reading clubs.
"Alpha Phi Omega is the largest co-ed service fraternity in the world, with more than 256,000 members on 687 campuses across the nation. Alpha Phi Omega provides service to the community by donating time and effort to various organizations and causes."
"Even though we are technically a fraternity, membership in Alpha Phi Omega is not open only to men. Anyone, from the brainiest bookworm to the wildest wild-child can join. You can even be in another social fraternity or sorority. The only criterion is that you have an earnest desire to help out those that need it."