Zomo the Rabbit


Last updated Monday, March 25, 2002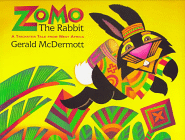 Author: Gerald McDermott
Illustrator:
Date of Publication:
ISBN:
Grade Level: 2nd
Date(s) Used: Sep. 2000

Synopsis: Neither big nor strong, Zomo is clever. However, as he finds out from Sky God, cleverness and wisdom are not synonymous. To attain wisdom, Zomo has to, through trickery, obtain the scales of Big Fish in the sea, milk Wild Cow, and deliver the tooth of Leopard to Sky God.

Craft ideas:
Re-enact the story.
If Zomo had had wisdom, what would he have done differently? Draw that.
What was going on in the Sky god's head? Why did he teach the lesson this way? Draw his head, and draw in it what he was thinking?